Eradication of Malignant Carcinoma in the Breast Tissue
IRB – Double Blind Placebo Controlled Breast Cancer Clinical Trial
60 were enrolled, with an initial diagnoses of Stage I to Stage IV, Malignant Carcinoma in the Breast Tissue.
Each was confirmed by a Fine Needle Aspiration Biopsy (FNAB) or Breast Biopsy (BB), and MRI.
Participants were randomly assigned to one of three groups.
1. RaproCell™ Group – 1 packet of RaproCell™ twice daily, and dietary changes
2. Placebo Group – Took Placebo
3. Control Group – Took Nothing
No patient received surgery, chemo or radiation before or during the Clinical Trial.
Group 1 - RaproCell™ Group
19 of the 20 patients experienced positive results. Decreased tumor size months 3 to 9. No discernible tumor at the end of 12 months.
1 patient experienced tumor shrinkage during the 12 month period, 5 showed signs of no change. 15 experienced tumor enlargement. At 6 months the 15 unresponsive patients removed from of the clinical trial.
No Treatment. No positive signs. All participants removed from Study by the end of month 4.
The patients using RaproCell™ reported on the positive experience of drinking two glasses daily, as opposed to suffering the side effects of chemotherapy, radiation or surgery.
Breast Clinical Trial Results
in conjunction with Chemo and Radiation
| Group | Stage | Clear | Group | Stage | Out | Group | Stage | Out |
| --- | --- | --- | --- | --- | --- | --- | --- | --- |
| | 2 | C | | 1 | O | | 2 | O |
| # 1 | 1 | C | # 2 | 1 | O | # 3 | 1 | O |
| RaproCell | 1 | C | Placebo | 4 | O | Control | 4 | O |
| | 3 | C | | 3 | O | | 3 | O |
| | 2 | C | | 4 | O | | 4 | O |
| | 2 | C | | 4 | O | | 2 | O |
| | 3 | C | | 3 | O | | 2 | O |
| | 4 | C | | 3 | O | | 1 | O |
| | 1 | C | | 1 | O | | 3 | O |
| | 4 | C | | 2 | O | | 1 | O |
| | 4 | C | | 2 | O | | 1 | O |
| | 2 | C | | 3 | O | | 1 | O |
| | 1 | C | | 2 | O | | 2 | O |
| | 1 | C | | 1 | C | | 2 | O |
| | 1 | C | | 1 | O | | 2 | O |
| | 3 | Out | | 2 | O | | 1 | O |
| | 2 | C | | 2 | O | | 3 | O |
| | 2 | C | | 1 | O | | 1 | O |
| | 3 | C | | 3 | O | | 4 | O |
| | 2 | C | | 1 | O | | 4 | O |
RaproCell dramatically reduces CA15-3 levels in breast cancer patients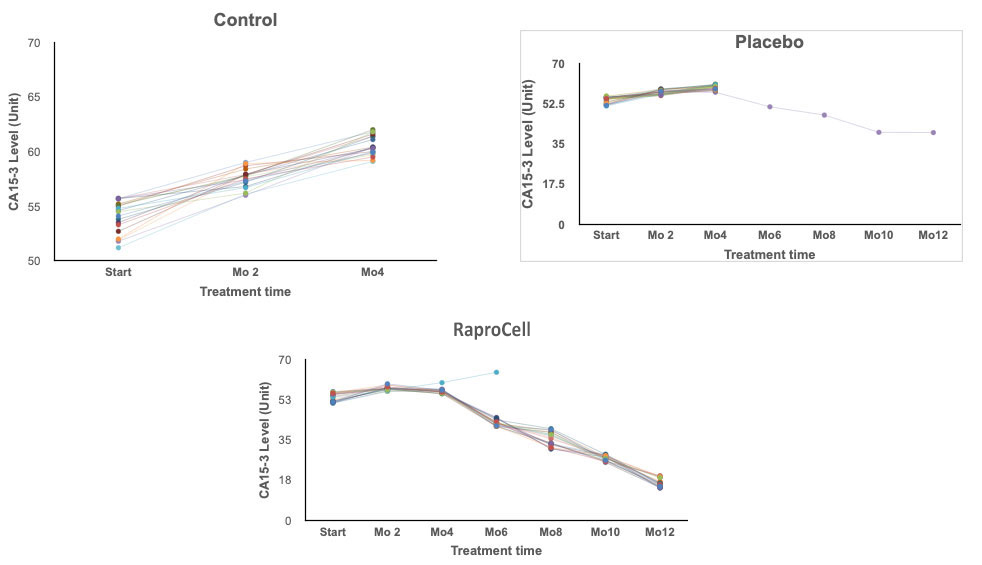 RaproCell dramatically reduces CEA levels in breast cancer patients